スポンサーサイト
上記の広告は1ヶ月以上更新のないブログに表示されています。
新しい記事を書く事で広告が消せます。
Maurizio Restaurant
Years ago, when Northbridge was still under heavy re-construction with a hope of making it as a fashionable city area, I lived in one of these first "trendy" appartments. And, I quickly realised that walking distance to Northbridge didn't mean that I actually "could walk" home in dark after 7.00PM.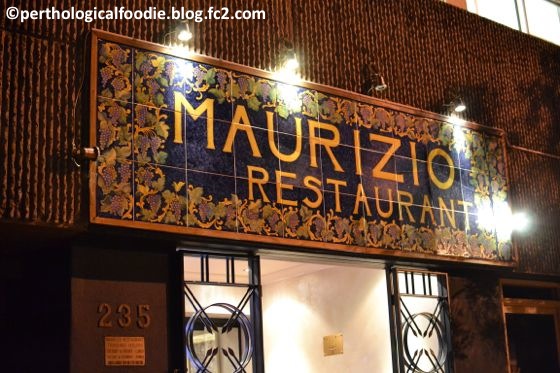 In that time,
Maurizio Restaurant
was still a part of WA Italian Club on Fitzgerald Street, simply in the back facing to the large parking area. Maurizio was very friendly, chatty and efficient Italian owner who always welcomed us to the restaurant. I tremendously enjoyed their first successful
Il Giro d'Italia
with warm and busy ambience like you were invited to a family festival in Italy! Nowaday, this Jouney to the Italian regional cuisine is one of the most famous food projects in Perth without doubt.
When I moved out of the appartment a few years ago, Maurizio moved to the front part of the Italian Club and started serving the same delicious cuisine in a beautifully decorated restaurant. The menu was extended and Maurizio's description of "today's special" was already mouth-watering before actually eating it. I always ordered more than I should have, ended up being on a diet for a week.
Last weekend, I remembered Maurizio and that I haven't tasted its cuisine for more than 3 years. After having a disappointing experience at recent eating out, why not going back there for a fancier evening?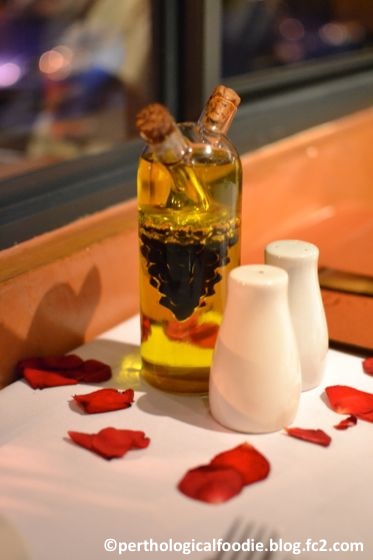 When we were guided to our table, we noticed that the manager was so similar to Maurizio in apperance. He, Marco, turned out to be Maurizio's own brother who joined him from Italy in 2008! Of course, the same friendly smile and warm, courteous manner.
We already had homework done with their website, which means
5 COURSE DEGUSTATION MENU
($99.00) for tonight's dinner.
While we were discussing about wine, the other waiter brought a basket of fresh bread with chilli oil. As we all know, there are much more restaurants in Perth which don't include free bread in its service. Although I prefer normal olive oil with a bit of balsamico vinegar for bread to dip, this chilli flavoured oil matched to sweet and bitter Campari Soda ordered as an aperitif.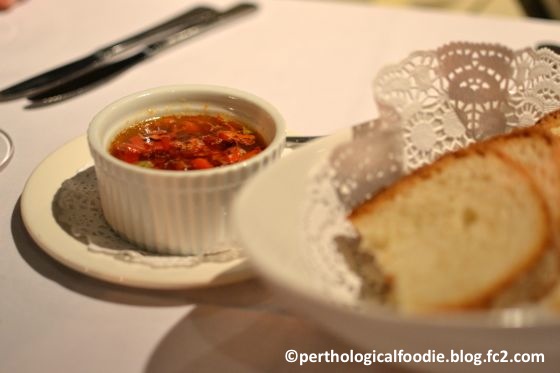 As for wine, we were suggested by Marco to taste wine by a glass for each dish. Cancelling the idea of taking taxi and leaving our car at the parking after 2 bottles of each white and red, we gladly took his suggestion.
Then, our
mosaico of antipasti
has arrived.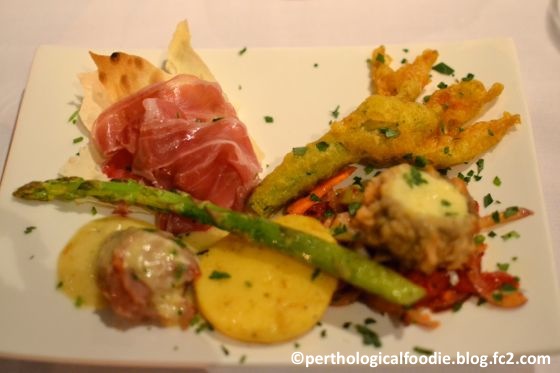 Freshly sliced
Prociutto with thin cracker bread, roasted asparagus, fig wrapped with Prociutto with melting gorgonzola, deep-fried zucchini flower stuffed with anchovie and mozzarella, roasted mushroom with breadcrumb, a slice of grilled Polenta
. I especially enjoyed
zucchini flowers
because the season is already over but we could still have it due to extended summer heat in WA. Zucchini flowers will no longer be available next week. We were lucky!
And
sweet fig and prociutto covered with a strong taste of gorgonzola
is heavenly. I loved this mixture of taste, sweetness, bitterness, saltiness all in one in my mouth!
Accompanying wine was Da Ma wine, white, Trebbiano D'Abruzzo DOC, a fresh and flowering aftertaste.
Our
primo piatto
consisted of two kind of pasta.
Home-made spaghetti
was perfectly cooked in "al dente", with lightly sauteed prawn, squid with fresh tomato and asparagus still crunchy.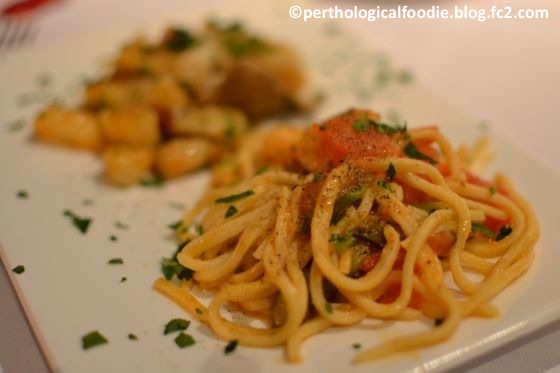 But my surprise was 2nd pasta,
gnocchi with porcini and speck
. I usually don't like gnocchi very much, having its consistency dense and chewy. Maurizio's gnocchi was fluffy and light becuase it was made freshly by the skillful chef in the kitchen. Cooked with chuncks of Speck and its smokey flavour, gnocchi disappeared into my mouth quickly and I sadly glared my empty plate at the end. The wine was still Da Ma wine, but this time Rose, Cerasuolo, Montepulciano D'abruzzo DOC.
Our secondo piatto started with seafood (and I stayed with Rose "Cerasuolo" for its dry but rounded taste).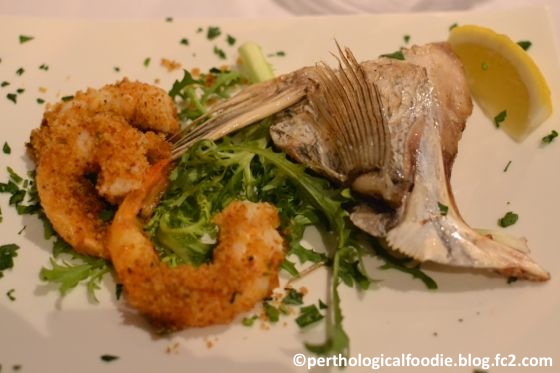 Fresh Prawns Baked with seasoned breadcrumbs
was so fresh with distinguished sweet fragrance coated with the crunchy breadcrumb. And,
Grilled Baramundi "wing
"! The most delicious part of a fish is definitely cheek and under the wing, although it is not well known in Australia. When I turned over the fish, the meaty, deep-scented part appeared and easily scratched by a fork. With a squeeze of fresh lemon, I fogot myself being in a restaurant and wanted to grab the wing and suck the last meat from its bones...(and my common sense stopped me at the last moment).
By the time that I emptied this fish dish, I was full and started wondering if I can keep up with two more dishes.
Then, the red, still from Da Ma Wine, Montepulciano D'Abruzzo DOC was poured into my glass and I (as always) eased the warning from the stomach with it.
Our meat dish was, oh my goodness, huge.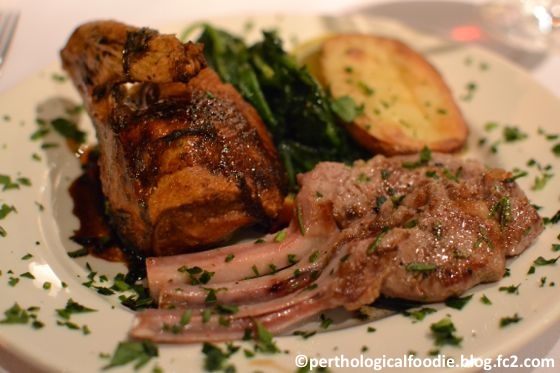 A Marinated and Roasted Duck with balsamic vinegar glaze
was at the "beginning of well-done", which means still juicy and soft. C
hargrilled lamb cutlets were coated with fresh rosemary
were done as medium rare in my favourite style. I tasted both of them but could not finish the dish. What did I do? Of course, I descretely asked for a doggy bag, altough I have only 2 cats who don't eat meat. It was my own dinner next day with green salad.
H*** asked me with a worrying grin if I still can continue to the dessert. My answer was "YES, I always can spare a little space for a sweet in my stomach, no matter how full I am".
Our dessert came to the table as
Tiramisu
and
Panna Cotta with rasberry sauce.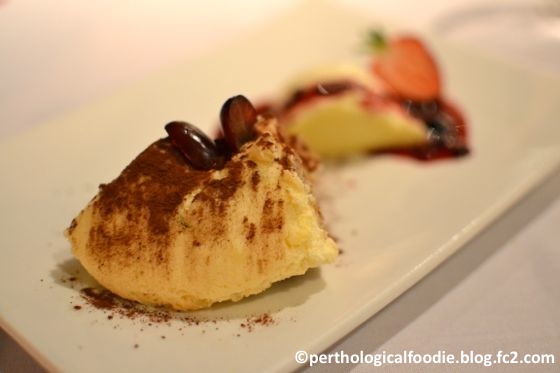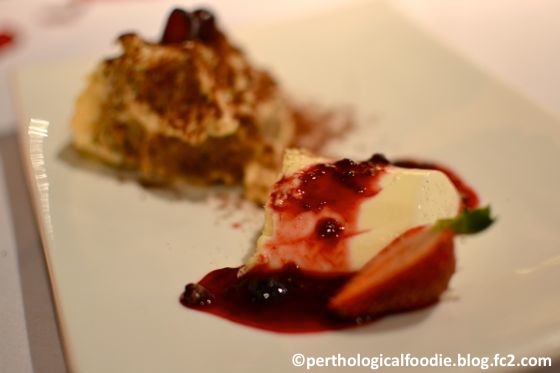 Tiramisu is nowady so famous and anyone, who has been into Italian cooking, has made it once in a lifetime. Me too. But Maurizio's Tiramisu was so subtle and delicate cream between soft yet deep-flavoured, softened bisket slices. A sophisticated version of Italian Mamma's cuisine. Panna Cotta was absolutely heavenly too. I may come back to this restaurant just to devour its dessert again!
And, keeping my word, I finished dessert without any cream left on the plate.
Our 5 course degustation menu was NOT inexpensive, but as I usually say, worth paying for, because of perfect culinary trinity of "ambience, service and food".
I know that Maurizio's famous Giro d'Italia is a great success. But I am very happy to recommend its a la carte menu to anyone who would like to experience Perth's Italian cuisine at its finest.
Maurizio Restaurant
235 Fitzgerald St, Perth WA 6000, Australia
Telephone: (08) 9228 1646
http://www.mauriziorestaurant.com
Tuesday to Friday: Lunch and dinner
Saturday: Dinner only
Sunday: Open for functions by request
View Larger Map
スポンサーサイト
トラックバック:
コメント:
No title
Ciao Ciao Ciao
So wonderful to have you back with us after 3 years and I am glad that your dining experience with us was so favourable.I always say -
"Let's excite all five senses!" Even the 6th – The Maurizio Restaurant Experience!!!!
Yes we are entering the 11th fantastic year of Il Giro D'Italia and Maurizio Restaurant's famous "Roman Banquet" recreates once again the hedonistic times when simple food rituals were transformed into gastronomic feast and celebration.
Thanyou and I wish you the vey best and look forward to sharing a glass of fine Italian wine with you when you next visit us at Maurizio Restaurant.
Maurizio DiCiano
15-03-2012 (Thu) 15:21
Maurizio(URL)