スポンサーサイト
上記の広告は1ヶ月以上更新のないブログに表示されています。
新しい記事を書く事で広告が消せます。
Il Cammino Restaurant & Pizzeria
I used to go to Casa Mia at Great Eastern Highway, for its Pizza and a huge plate of mixed Antipasti. Yes, it was HUGE. An order for one Pizza and one Antipasto was enough to fill in two stomachs. Well, it's gone already several years ago.
Then, suddenly I found one of local papers mentioned the name of "Casa Mia" again. The "Casa Mia" chef and his family started a new restaurant in a small suburb called Carlisle in Perth. Well, why don't we try it again?
The restaurant itself is located off main street in Carlisle, formarly a small Hungarian restaurant where I dined only once several years ago. I don't remember the taste but as I didn't go there again, it may have not been worth visiting again.
So, I was naturally excited to visit
Il Cammino
to see and taste their menu. When I entered the front garden extended to the main door, I saw some dried basil and wilted cherry tomatoes, obviously never watered. Hmmm.
For the restaurant's honour, the staff and chef were very, very friendly and welcomed us with big smile on their faces, not dried or wilted.
We ordered
FRESH WA CALAMARI FRITTI
($18.80) and
ANTIPASTO CASALINGO
($21) to start with.
Calamari was tender with crispy deep-fried batter and generous in quantity. But the skin was not well removed and when bitten, its string still tied with the other half on the fork. The accompanying sauce was very sweet with cheap mayonaise.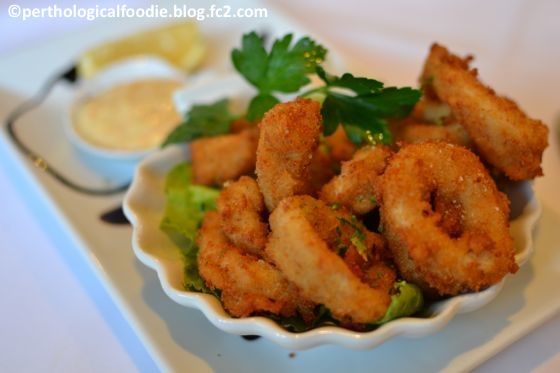 Then, our Antipasto plate.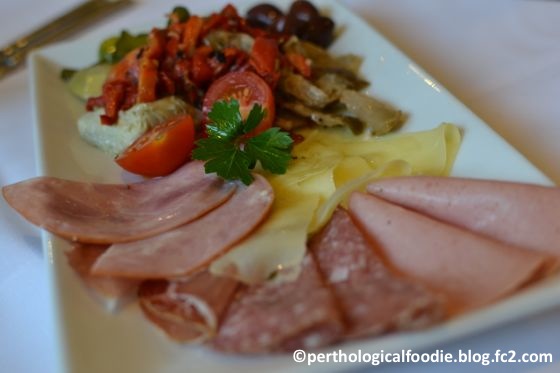 The slices might be directly from the vacuum pack, two slice of each salami and mortadella, one slice of ham cut in half and one slice (with indent of the vacuum packing) of Prociutto, plus several thin slices of cheddar cheese. Very poor choice and quantity. I am not sure if this cheese was originally made for sandwich. We thought it might have come with bread but it wasn't because the bread was all on extra cost. The pickles may have been made at restaurant, but this dish was definitely NOT worth paying $21, seeing more generous and fresh antipasto variety at the similar price in more upmarket restaurants.
It went worse, when we saw "my main meal" already came to the table. Huh? Yes, when ordering, the staff asked us if we would want to have a "break" between the entree and main course, and we said "no, it is not necessary". Did she mean that the main dish would be served while we were still eating entree?
She brought it back to the kitchen, probably thinking that I would turn out to be a witch, after seeing my face (unhappily frown).
Our order for main course was
Chunks of Tender Chicken breast cooked in Cajun spice with prawns in a Rose Marie sauce
($29.80) and
CLASSICO ITALIANO Pizza
($24) with extra anchovie.
Chicken breast was sauteed and still juicy but the bland pinkish brown sauce was just poured on top. I make Cajun sauce by myself but I have never seen this kind of weird cream sauce without spice, as "cajun". The Chips were crispy and better than I expected, because I was worried that the staff would bring the same dish just sitting in the kichen until I finished my entree.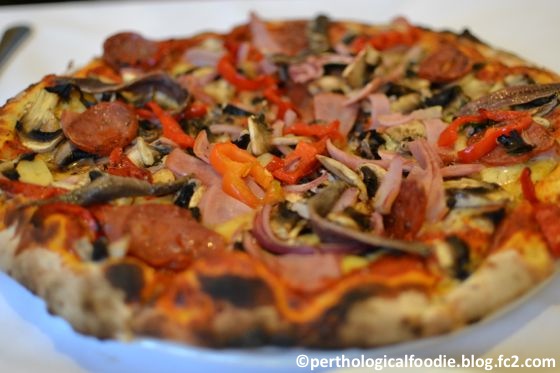 The Pizza. Did the chef forget to put the tomato sauce and cheese? No, he didn't but again VERY poorly visible between the ingredients on top. The base was tasty but I prefer the thin, crispy base...The extra "large" anchovies were even not cut in half. They were lying on the Pizza, like dead fishes "freshly" out of the jar.
Otherwise, it looks delicious but we both were disappointed without having melting cheese.
We've arrived at the restaurant at around 6.30. By the time when we finished Entree, half of the restaurant was full and getting lively with local people. The staff were attentive and warm, talking to us like neighbours. If the food were as good as this warm ambience, we'd certainly be constantly coming back as customers...what a shame!
スポンサーサイト
トラックバック:
コメント:
No title
Hi ,
Your first posts just appeared on Urbanspoon! Check it out:
http://www.urbanspoon.com/r/338/1633143/restaurant/Perth/Victoria-Park/iL-Cammino-Restaurant-PIzzeria-Carlisle
I encourage you to claim your blog, which allows you to add a picture and change some settings. The blog photo shows up next to your posts wherever they appear on Urbanspoon. Here's how to claim:
- Make sure you're logged into Urbanspoon
- Go to your blog page on our site:
http://www.urbanspoon.com/br/338/7476/Perth/Perthological-Foodie.html
- Click "Claim your blog" in the left sidebar
After you submit it, we may contact you to verify your claim. Check your spam email folder if your claim hasn't gone through in a day or two. You'll also find some interesting badges and widgets on your Urbanspoon blog page - look in the right sidebar.
If you have any questions, please contact me via email.
Thanks,
Greg
www.urbanspoon.com
No title
Thanks! I just approved your blog claim. Now your Urbanspoon profile picture is displayed on your blog page. You can upload a blog-specific photo if you prefer, and can change a few other blog settings there. Also, if you vote for a restaurant that you've reviewed on your blog, we now show your vote next to your post everywhere on our site.
http://www.urbanspoon.com/br/338/7476/Perth/Perthological-Foodie.html
Best,
Greg
www.urbanspoon.com
Don't Waste Your Money
Just spend almost $300 at this establishment tonight. My partner is still in the toilet after eating off salmon. The gnocci was not homemade, if it was then they really should just buy packet as it would have tasted better. My chicken was tasteless and swimming in flavourless sauce. Meals were really really terrible and we will certainly never ever go back here and will tell everyone we know not to waste their money. The facility and the staff were really lovely which is such a shame, but for the love of god, to the owners, get rid of the chef - he is killing your business and making your patrons sick!!!!
31-03-2012 (Sat) 21:16
Don't Waste Your Money(URL)