スポンサーサイト
上記の広告は1ヶ月以上更新のないブログに表示されています。
新しい記事を書く事で広告が消せます。
Padburys Cafe Restaurant
I love Guildford with beautiful old houses, little cafés, antique shops. Especially on lazy Sundays, I love strolling down in its main street. Go further away by car, you can visit the famous Sunday Market in Midland and well, of course, Swan Valley with a variety of wineries.
I would want to have a house there, IF it doesn't take almost one hour to commute to my work place. Probably when I retire, huh?
OK, in the meantime, pass the old Pub "Rose and Crown" at right along Terrace Road, then continue to walk for about 20m. You will see the beautiful, old Padburys house at left. Yes, it is the famous
Padburys Cafe Restaurant
.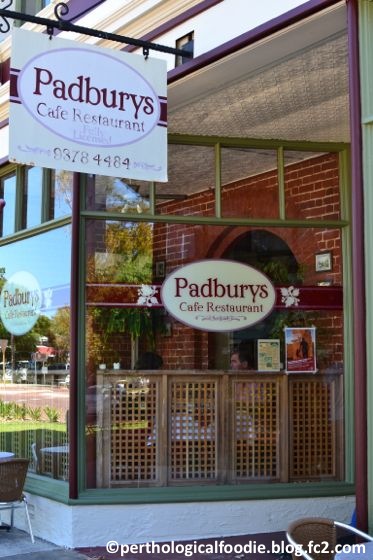 It has a high ceiling and huge shelves on both side, all in warm and old-fashioned ambience. The staff are friendly and helpful.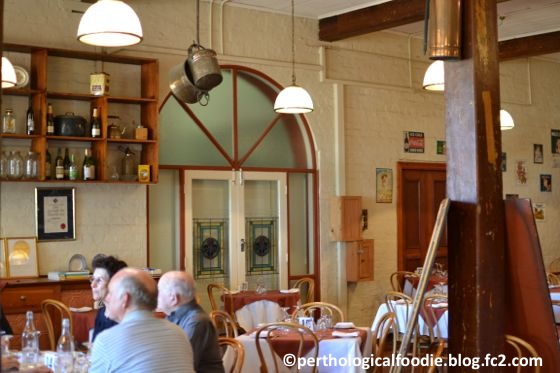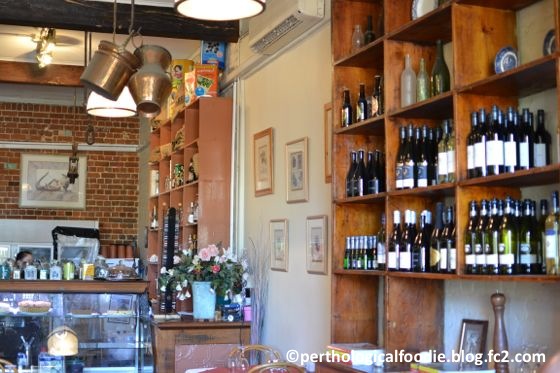 I had a cup of coffee once in this restaurant but have never dined until now. Somehow, I used to just walk around Guildford and go directly to one of wineries for lunch or dinner. And, I must tell you, it was a BIG mistake that I haven't.
I was quickly looking at the lunch menu, when the staff brought a huge menu sign (which was actually outside the restaurant) and have it lean at the next table so that we can see and check "today's menu". I immediately decided for
Tasting Plate ($26.50) with Chicken skewer, grilled squid and mushroom on pesto crouton, marinated prawn with avocado salsa, mini veggie quiche, Turkish bread with 2 dips
.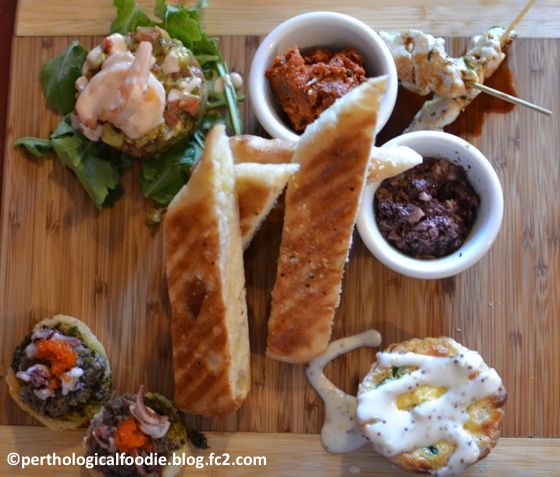 It came on a large wooden plate, the kind of plate that you can slice 1kg of heavy bread easily. I love "tasting something" because usually it contains a bit of everything tasty. Oh, I don't dislike a huge amount of standard Australian meal, but often I get bored after fighting with 500g meaty meat on my plate.
Turkish bread was fresh with black olive Tapenade (yummy!). Another dip was tomato dip with sun-dried tomato and grilled eggplant which was also tasty. I'd like to try it at home, because the smokey chopped eggplant with sun-dried tomato was the mixture that I've never imagined. The squid and mushroom crouton was so tasty, mixed with aroma of little squid tentacles and crunchy flying fish roe on top. I particularly loved the quiche, so soft and fluffy. Usual quiche has dense consistency that you must cut with a knife but not this one which can be done by just pushing with your fork! I wonder how you can make it so soft….beating eggs instead of just mixing in?
Tangy prawn came with well spiced avocado and tomato, so fresh that I almost ordered one more glass of white wine (what an excuse!).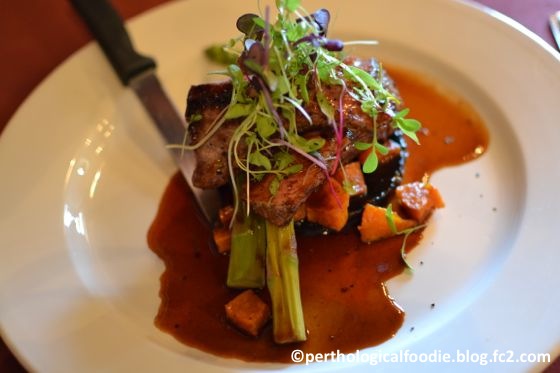 H*** ordered today's meat,
Chargrilled Lamb loin with roasted sweet potato, chargrilled mushroom, asparagus and red wine jus ($34.50)
. We have both been holding our breath until it came in perfect medium rare as ordered. Chargrilled outside and then in rose colour all around with rare but cooked part in the middle. Perfect. The meat itself was tender with full flavour of quality lamb.
A huge field mushroom was set as a bed for mashed potato and chunks of sweet potato, and beautifully grilled lamb loin on top. Heavenly! The meat is coated with red wine jus. Deep and wonderful aroma of this jus was of course, dubbed and cleaned with a piece of Turkish bread stolen from my tasting plate.
I should have ordered a dessert but my stomach was so full that I couldn't imagine where to squeeze in. There were some apple pie, non-baked cheese cake with raspberry and chocolate cake….aaaah.
Fully licensed and more to offer, I definitely have to go back to Padburys for dinner (when I have a light lunch). It was a delightful surprise that we had such an enjoyable lunch this long weekend!
Padburys Cafe Retaurant
114 Terrace Rd Map.4fc0dee
Guildford, WA 6055
padburysrestaurant.com.au

Breakfast: Sat - Sun 9:00am to 11:00am
Lunch: Tues - Sun 11:00am to 3:00pm
Dinner: Tues - Sun 6:00pm til Late
View Larger Map
スポンサーサイト
トラックバック:
コメント: