スポンサーサイト
上記の広告は1ヶ月以上更新のないブログに表示されています。
新しい記事を書く事で広告が消せます。
Rasa Nyonya Penang Restaurant
Albany Highway in Victoria Park was once a slightly run-down and shabby street, and full of cheap restaurants and take-away shops. Within the past few years, my oh my, what an improvement! Heart of the Park Shopping Centre, between Albany Highway and Shepperton Road, was closed for renovation and re-opened as Centro several years ago. That was the beginning of gentrification of Albany Highway. More and more trendy places started opening along the street, appealing to younger and fashionable people of Perth.
However, this transformation literally stops at the corner of Westminster Street except for one block between Hill View Terrace and Shepperton Road. A small Malaysian place,
Rasa Nyonya Penang Restaurant
is situated in that tiny block where you also find Turkish Kitchen at right side and old Food Court opposite.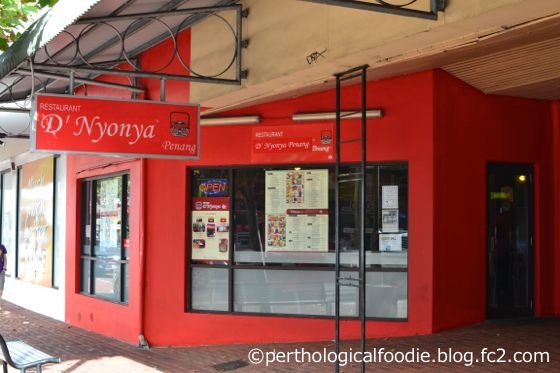 The interior is not different from the Food Court with plastic chairs, wood-colourd, laminated tables and minimum decoration. When we entered the restaurant at 12.00 PM on Sunday, there were only two tables with customers. Oh. Did we make an mistake again like most of the restaurants we have visited with expectation in the past few years? But no. we kind of came in the threshold of timing because within 15 minutes more than 10 people popped into the tiny restaurant.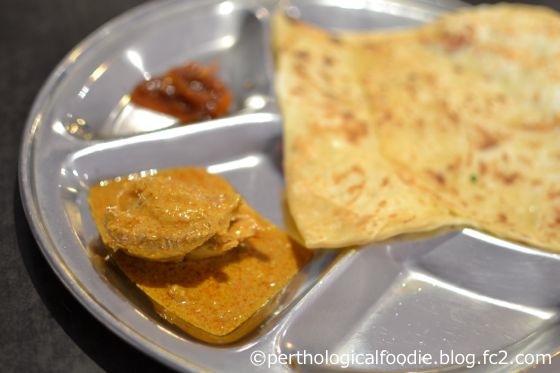 We first ordered Roti Canai with Curry Chicken ($5.50), accompanied with spicy Sambal. The Roti was thinly layered and ripped easily. Dipping into the Curry Chicken, all my fingers were so sticky that I could not touch my camera anymore (I went to the bathroom to wash my hands before having the main meals). Well, a bit too oily for my taste but still a delicious starter.
After this starter, I checked the other table where two ladies who have got only one fried noodle dish and started pecking it together. They have got the second dish with some Chicken and steamed rice about 15 minutes later when the half of noodle was finished. Hmm….It is very common that we can't expect all the dishes coming together in certain cheap restaurants but hey, we are not sitting at the table with white linen in a fancy restaurant to pay 40-50 dollars for a main.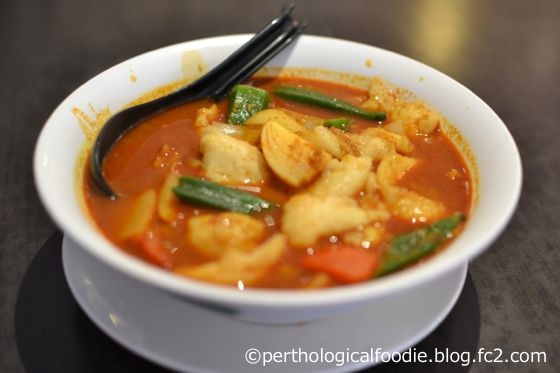 While I was observing that table, our second dish (one of mains) has arrived. Assam Gulai Fish ($16.50) is spicy Curry Gulai with fish filets, Okra and Tomato. I love curry (both Indian and Thai) , but what a mysterious flavour this Malaysian Assam Gulai has….I have no idea what kind of spices were mixed into it and although Malaysia is the neighbour country to Thailand, its cooking method and ingredients are quite different. I assume that whole or chunk of fish might be used in Malaysia like most Asian cuisines but here you have tender fish fillets in curry sauce and easy to devour without worrying about the tiny bones stuck in your throat. By the way, if you have a bone there and could not remove them, don't panic. You need to swallow a spoonful of rice instead of drinking water, it will go through your throat with rice into your stomach. Make it as a small spoonful though, otherwise you will end up choking by both bone and rice….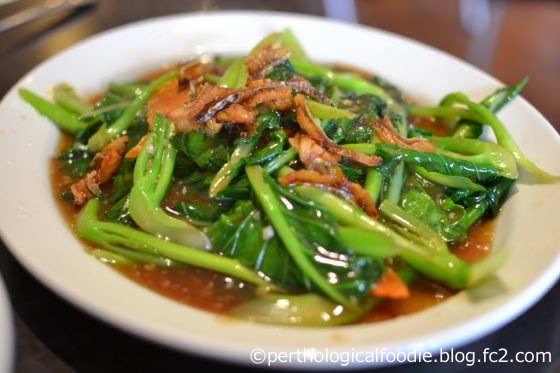 Kai Lan with salted Fish ($10.50) was accompanying it (just several minutes later) . Crunchy fresh Kai Lan is always my favourite Chinese vegetable to stir fry. Here you get it with a slice of carrot and salted fish was sprinkled on top. I love salted fish but there may be people who do not like it because of its sharp and strong fishy smell and taste. A bit too much of corn flour (or rice flour) was used to make gravy sauce and its taste was diluted by the flour. A tiny bit of complaint, as Kai Lan was fresh and perfectly cooked for agreeable bites.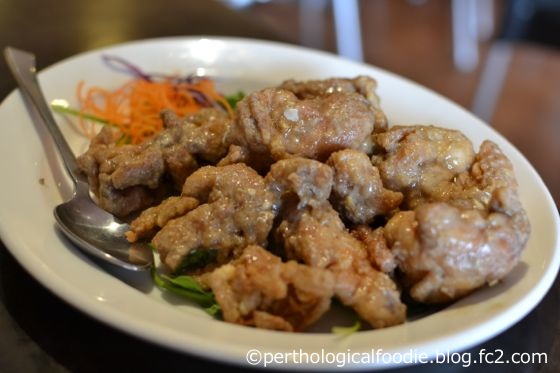 Well, by the time above 2 dishes started being finished, we realised that the last one, Salted Egg Chicken hasn't appeared yet. But no worry, it has….after 15 minutes.
Generous volume of tender chicken with strong taste of egg yolk ($16.50). I vaguely remember that I had once this dish in a Chinese restaurant, but this was far better than that of my memory. Unfortunately, as it was quite heavy for my stomach, I could eat only one piece of it.
As you already know that I have a second "hidden" stomach for sweets, I asked the service guy for the dessert, Pisang Goreng with Cheese ($6.50), Fried Banana served with Condensed Milk and Cheese. He smiled me awkwardly and said "Oh it takes long time to make…". Very kind and reasonable to inform us rather than taking the order and left us to wait for longer than 30 minutes.
Overall, I loved the meal and (surprisingly) their service as well.
I read some complaints about this restaurant's service, and yes, I think too that they need some more hands to help out. But they are friendly and helpful without any rude or stressful attitude even though the restaurant started getting busy.
I will certainly come back to taste the dessert and other dishes. Oh I already drool over Laksa!
スポンサーサイト
トラックバック:
コメント:
No title
Its a my habit to take food from any outstanding and well known restaurant as well. I've just come to know about Rasa Nyonya Penang Restaurant and I hope in next week I will be there for breakfast/launch/meal. Thanks