スポンサーサイト
上記の広告は1ヶ月以上更新のないブログに表示されています。
新しい記事を書く事で広告が消せます。
Sandalford
Sandalfold
is situated in the Swan Valley and quite a ride from the city area. But I love its Semion Sauvignon Blanc and used to purchase them by the dozen for 'daily' consumption in summer (hey, of course not a bottle 'daily' but a glass or two).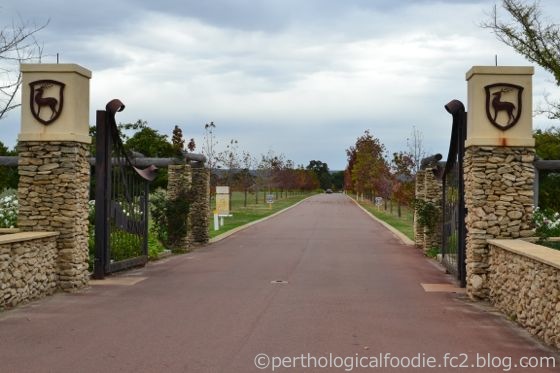 I still get a news letter from this winery and the recent one stated their 'autumn menu is on'. The menu looks fabulous and the booking was made for Saturday at lunchtime. I was there once and ordered two starters instead of a starter and main, and they were both delicious.
I booked a table for two 'inside' but forgot that they had a nice veranda along the restaurant area. By the time we've arrived, it was fully booked. It is cosy inside too but sitting outside (covered) in the early afternoon would have been comfortable…
Well, it doesn't matter, I thought.
My order for a starter was Pork Belly, Rottnest Scallops, Vanilla Carrot Purée, Olive Oil Caviar ($22.00).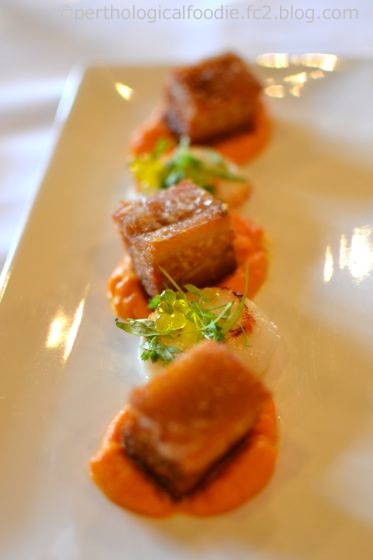 Well presented and Scallops had nice texture, but Pork Belly was a bit at the drier side and bland. I would prefer 3 scallops and 2 pork belly slices instead of 2 and 3. Vanilla Carrot Purée was OK but nothing special and I didn't taste vanilla in it.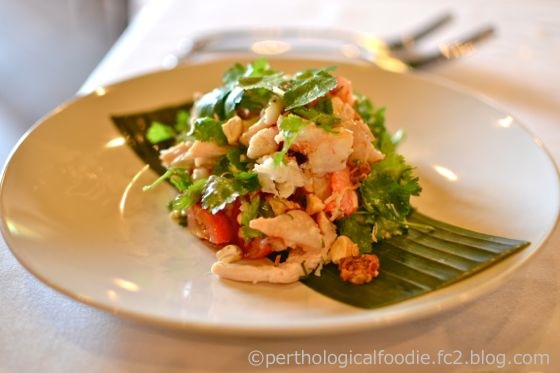 H***'s order was Masterstock Poached Chicken & Swimmer Crab Salad, Baby Lemongrass, Green Nam Jim Spearmint Dressing ($20.00), and better than mine. In fact, it was absolutely delicious! Deeply flavoured Crabmeat and delicately poached chicken were marinated with coconut, lemongrass and Thai sauce. Perfect combination of Asian fusion salad. I would like to try to make it by myself at home…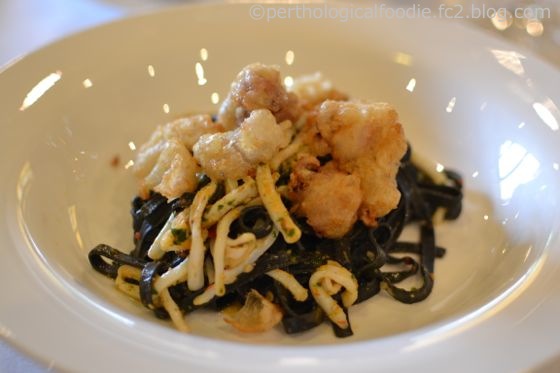 I asked for the second glass of 2011 Sauvignon Blanc Semillon, Margret River range ($9.50 glass, $40.00 bottle), when my main meal come to the table. It was Squid Ink Linguini, Sautéed & Fried Local Calamari, Chilli, Lemon, Parsley, Saffron Oil (Entrée $20.00, Main $32.00). Calamari was cut thin to mingle nicely into the black pasta, and its deep-fried slices on top. Lemony fragrance with chilli spice was perfect for my nose. But. I couldn't believe it first when I bit the pasta, which was far beyond "al dente" texture. Perhaps they did miscalculate the time, which may still continue to cook in its own steam on the plate, from the pan to the table. I loved the taste and calamari itself both sautéed and deep-fried. But over-cooked, soggy Linguini made me VERY sad…. what a shame.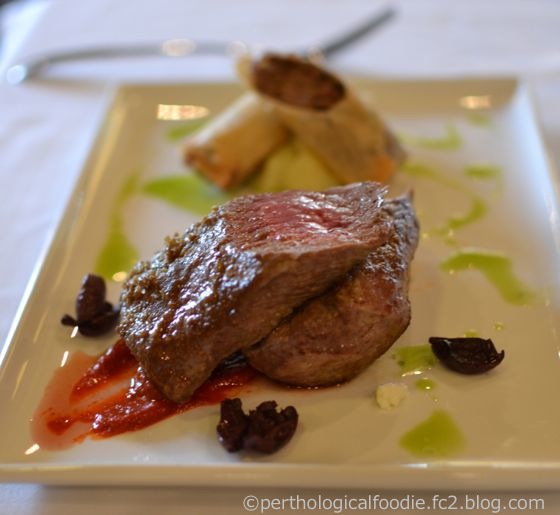 H*** switched white wine to red, 2008 Cabernet Sauvignon, Margaret River range ($12.00 glass, $55.00 bottle), with his Cumin Rolled Lamb Loin, roast Red Pepper, Slow Cooked Shoulder, Artichoke, Feta, Olive ($42.00). Lamb loin was done as medium, rose colour in the middle and well done outside. Tender with a hint of Cumin. I particularly liked Slow cooked chunks of shoulder meat, packed into spring roll paper and deep-fried. I would try it next time as a main meal, as I couldn't eat much of it with H***'s glare as my fork often lingered over his plate.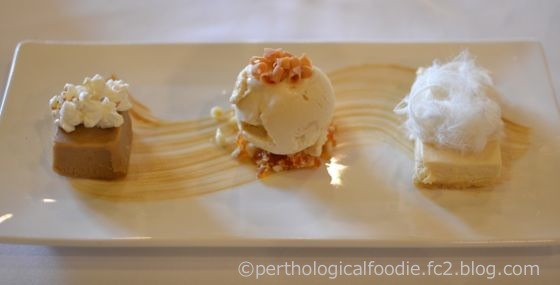 As I left 1/3 of Linguini on my plate, I needed something to calm my sweet teeth at the end. Caramel Assiette was the perfect choice for me with Caramel Fudge, Pink Peppered Popcorn, Caramel Macademia Fudge Ice Cream, Caramel Cheesecake ($19.00). And it hit my tastebud! All three sweets with caramel, yet so different in your mouth. That was my favourite this time.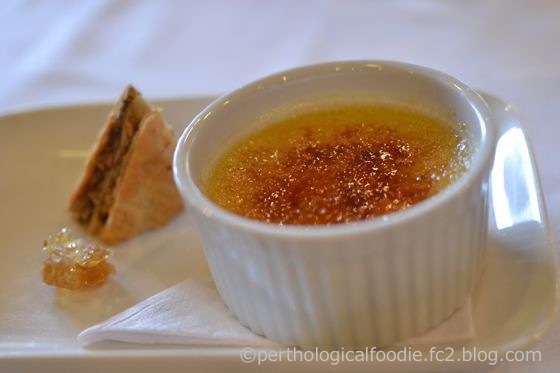 Another dessert was Chai Brûlée, Pistachio Baklava, Redgum Honeycomb ($16.00). There is a reason why I wrote "another dessert". Yes, I ate almost half of it! I love Chai and with its intensive flavour of spice and tea, yet soft and light in sweetness. I couldn't stop eating it….Sorry, H***.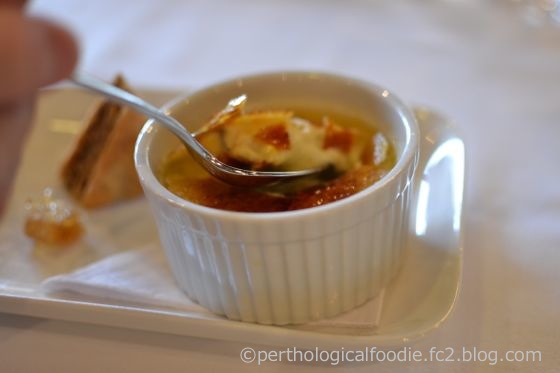 At the end, I smiled with satisfaction.
Oh but our service staff…nothing terrible, however we were facing outside, and she came to our table from behind and between us.Appearing like a ghost behind you in a horror movie. Sure, she said "Excuse me". But every time this "excuse-me" came between AND behind us, we almost jumped in shock. I would suggest you to approach the table from the front.
Overall, I was happy except for soggy pasta and I really hope that was an error which doesn't often happen in this fine dining room with a good reputation.
スポンサーサイト
トラックバック:
コメント: