スポンサーサイト
上記の広告は1ヶ月以上更新のないブログに表示されています。
新しい記事を書く事で広告が消せます。
SAKE BAR RESTAURANT
As there are dozens of traditional pubs in Perth, there are hundreds of traditional Izakaya in Tokyo. Izakaya is equivalent to English pub where people enjoy alcohol with some foods for hours in a casual setting. They usually serve nibble sized meals to share and therefore, it is quite difficult to find ONE dish to fill in an Australian sized stomach which has a capacity of 3L beer, 1kg of Chips and half a cow as steak.
Whenever I heard my friends complaining the smallish size of Izakaya nibbles, I used to recommend in zen-like calm manner that they should first go to their own pub to pour beer and devour Chips then join us later for Japanese nibbles.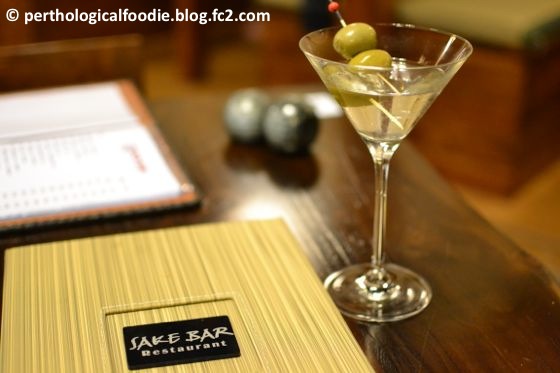 A month ago, one of my friends with rather smaller stomach suggested to go to a newly opened Japanese bar in Northbridge, called SAKE BAR RESTAURANT. I was so busy at work but Japanese Bar! Sake! Sushi! Sashimi! How could I resist?
We were quite early there on a weekday and could fit to a small table in the middle of the restaurant without reservation. The interior is traditionally and tastefully decorated with a little bridge at the entrance, with a trendy bar corner to the right. When you proceed to the restaurant area, there are some diner-style boothes for up to 4 people at right side and one private tatami room at left side.
Over 50 kinds of Sake and Shochu can be chosen on the menu. But I first tried a special cocktail of "Sake-tini", probably a mixture of Sake instead of Gin for Martini. It was tasty but as the price was not mentioned ont the menu page, I was surprised when I saw the bill later. $19.00! Phew, for just a dash of each Sake and Vermouth with an olive in toothpick? I often wonder why the eating out cost in Perth is extremely high compared to other "larger" cities over the world…often higher than London, New York or Tokyo.
After the satisfaction with this cocktail (because I still didn't know the price), we ordered a large (250ml) Tokkuri (ceramic bottle) of Bishonen Brand (Sake). Beautiful finish of sweet and mild taste.
Then, our nibbles started coming.
Tofu Salad.
The tofu was coated with rice starch before deep-fried, in a traditional Agedashidofu style. But Agedashidofu is in a sweet and salty broth. This one is coated with seaweed flakes, accompanied with fresh salad. Interesting and delicious!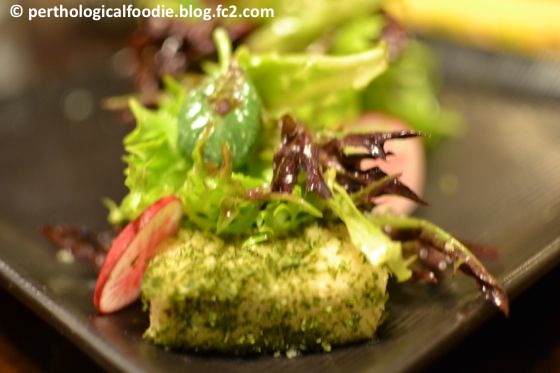 Wagyu Beef Tataki ($18).
Wagyu (means "Japanese Beef) is traditionally fed with beer and has small, thin fat nets all over the meat. The result is a bit fatty but extremely soft, like you can cut with chopsticks without using a knife. Tataki is just the cooking method to grill outside only with a strong direct fire. One of the best ways to have Wagyu to taste its subtle and smooth texture.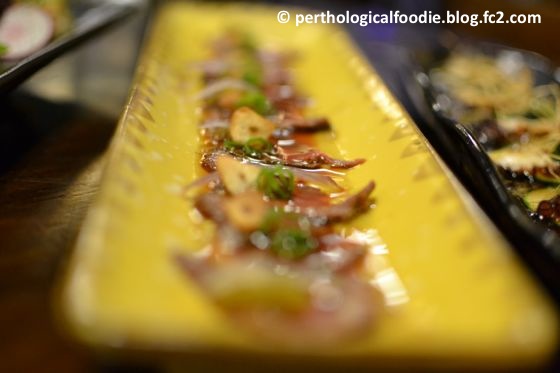 Octopus Carpaccio.
I love octopus! This is really a surprising, good idea to turn basic Japanese ingredient into modern cuisine with Italian traditional cooking method!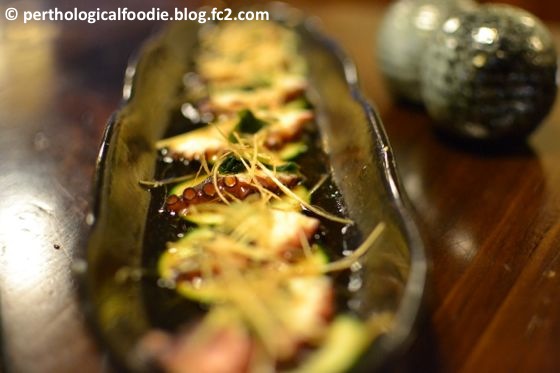 Deep-fried soft shell crab.
Recently, Soft Shell Crab is getting more and more popular in Perth, having its delicate shell with strong flavour of crab meat. However, it is unfortunately often cut in too small piece with a huge amount of batter, resulted just a crispy cracker-like chunks. SAKE BAR's soft shell crab is the best in Perth without doubt.
Its form undamaged and with flavoursame meat still intact, the crispy texture mixed with juicy, sweat meat....heaven!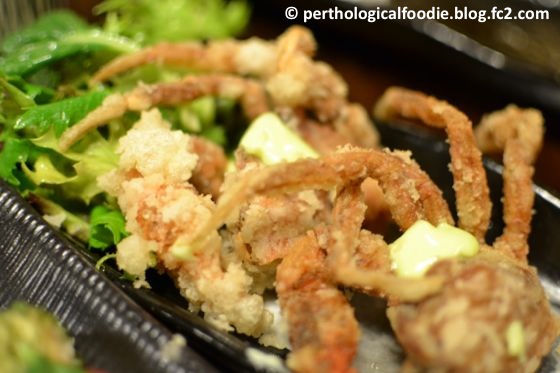 A variety of Nigirizushi.
The heart of Nigirizushi is actually "rice" itself. How it is coocked, seasoned and then how it is formed. Here it is the real Japanese sushi rice at its best. NOT "too al dente". NOT cooked without lid and NOT stirred constantly like Risotto. The raw fish variety is fresh and generously cut. A piece of eel is obviously made at the restaurant, and not frozen one that you can buy in an Asian shop. Delicious.
However, just one complaint. Why is their soy sauce so "piercely" salty and bitter? The soy sauce accompanied Sushi usually should be mild with rounded taste. This is one thing I disliked whenever I needed to dip and taste their soy sauce.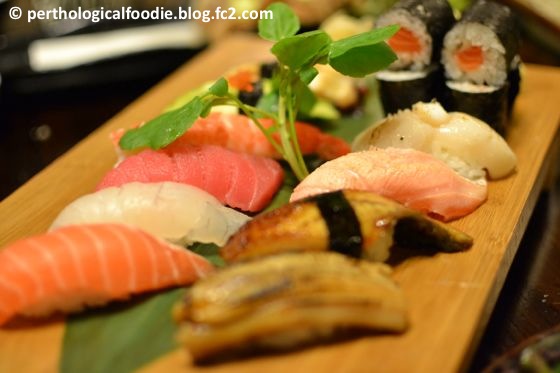 Toothfish Chilli Misoyaki.
I have never tasted Toothfish, but it is a kind of Seabass or Codfish, white smooth meat.I love sweet miso paste for fish. This kind of paste can be used for grilled eggplant too. Enjoyable match with chilled sake.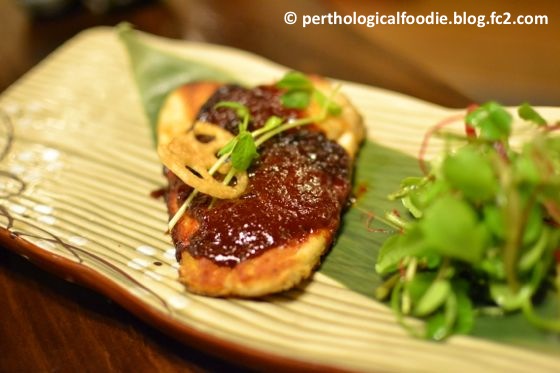 Zaru Soba ($10).
Japanese Izakaya has a variety of Carbohydrate dishes, like grilled riceball, rice soup, or soba/udon noodle. Somehow the people there love to finish their feast with rice or noodle. I followed this tradition and asked for zaru soba. Zaru means a wickerwoven platter or bamboo colander, so it is not quite the traditional way to serve, but at least on a wooden platter (the noodle doesn't get soggy because the wood will infiltrate the moisture). The soba is buckweat noodle but the type served was so-called Chasoba, with green tea. That's why it is green. I love both standard soba (greyish brown) or this Chasoba. The chilled noodle, coocked perfectly al dente, went agreably through my throat. But another complaint.The Tsuyu (dipping sauce) was again, made by their "special" soy sauce. It was too salty. Sigh...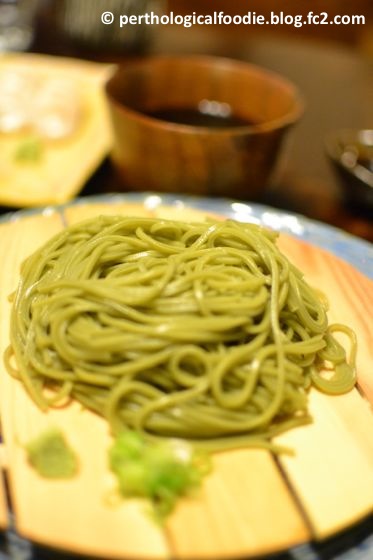 Aburi Sushi ($19).
I know after rice or noodle, the feast is over. But as it is Izakaya, you may order anything additionally if you want more! Aburi sushi was included in the nigirizushi set, but I particularly wanted this slightly grilled raw fish and scalop once more. When you grilled just a bit of its surface, the fresh and sweet flavour suddenly appears in depth.What a strange but wonderful experience.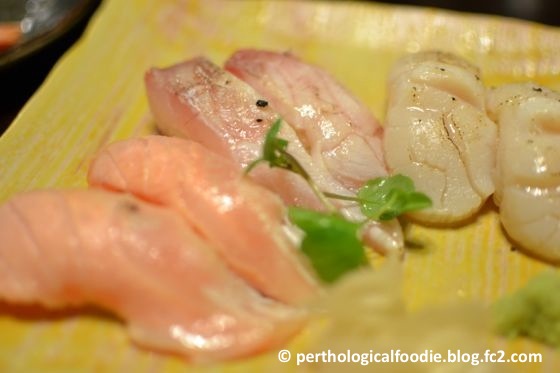 I am pretty sure that any Australian stmach would be satisfied with this culinary journey of Japanese traditional/modern variety both in quality and quantity. For two of us, it was more than enough and as you see, we didn't have any dessert because the last Aburi Sushi was a kind of substitute to it in a peculiar way...
I would love to go again this Sake Bar Restaurant and recommend anyone who want to taste Sake and nibbles of quality. Well, I will however, bring my own sashimi shoyu (Soy Sauce especially made for dipping Sushi and a bit more expensive than standard soy sauce) as their soy sauce is unfortunately scratching my nerve every time I use it.
SAKE BAR RESTAURANT
71 Francis St, Northbridge, WA 6003
TEL. 08 9328 3380
No Website
View Larger Map
スポンサーサイト
トラックバック:
コメント: