スポンサーサイト
上記の広告は1ヶ月以上更新のないブログに表示されています。
新しい記事を書く事で広告が消せます。
Belmont Tavern (Silks Bar and Bistro)
I needed to buy a thing or two this Thursday night when Belmont Forum was open till 8.00. Rushed into the Forum and satisfied to find what I wanted, suddenly I got hungry. Then, I became grumpier and grumpier because of low blood sugar level. D*** knew it and quickly suggested to grab something light at the Food Court.
I did have lunch and dinner there at Belmont Forum, but none of them particulary interested me tonight. Hmmm....why not a bit of alcohol too?
I have never tried
Belmont Tavern
, although I passed it every time when I went shopping at the Forum.
The restaurant is in usual pub style but quite attractively decorated inside. We were early and there was only one table occupied in the dining area. The staff was friendly and hey, there were two kinds of cider on tap, pear and original. Yey, I don't drink beer but I like cider on tap! Pear cider was a bit too sweet for my tast, but the original was fresh and nice on my tangue.
And the service staff didn't come to take our order for about 15 minutes. Well, the restaurant at 6.30 was of course almost empty except us and another table. But being busy laughing and chatting laudly, none of them did look at us and I was tired of watching a female staff's derrière for another 10 minutes. I started waving for the other 2 staff who were facing us. Their heads were toward us but they didn't move. Are they the type of people who don't see what they don't want to see, i.e. the customers whom they have to serve?
Finally I ordered my
Garlic Prawn with cream sauce, safran Risotto cake, tomato and basil salad
($25.50)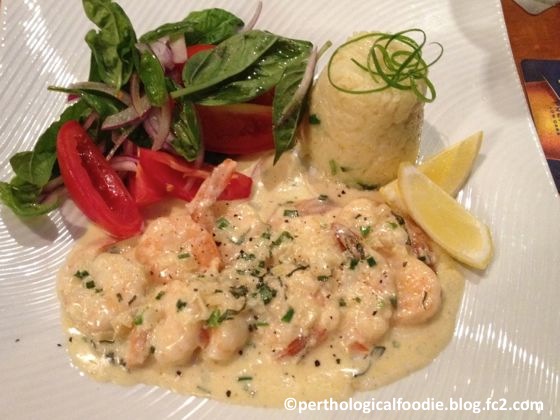 I am not sure how long the plate was forgotten at the kichen table (remember, the staff was still busy chatting), but the cream sauce had already a thin layer of fat and definitely not warm enough to serve the customer. Safran Risotto cake was an over-cooked rice tower, just a minute before becoming a porrige.
D*** ordered
400g Rump Steak with Chips and salad
(this had a name but I forgot it...$27.50). Huge! The steak was OK but not medium rare as D*** asked for, and rather medium having rose colour all inside. The chips were delicious and crisp though.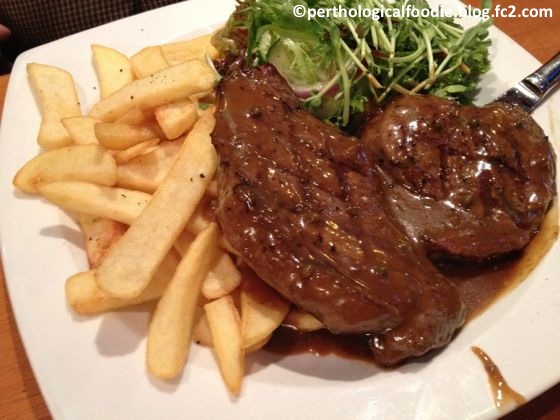 After the main meal, I wanted to try something else and asked for
Irish Cream Cheese Cake with decafe Flat White
. I can't drink a real coffee or tea in the evening without being awake until 3.00AM.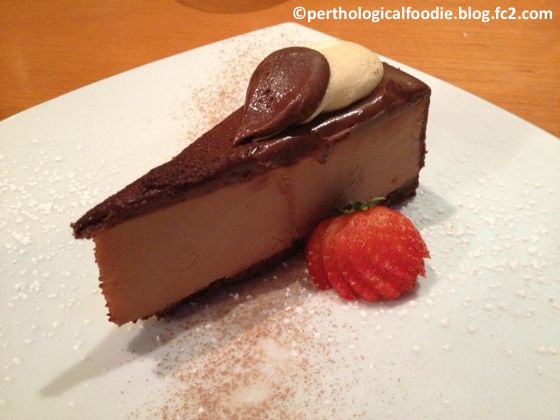 The cake came quickly but the coffee wasn't. after finishing the cake (it was OK), the coffee finally arrived with an excuse of "Sorry, the first one didn't come well". Well, the second one neither. I think something wrong with their machine. It was so weak that I remembered famous diluted-coloured "American coffee" in a diner in Chicago. Because of frothy milk, I couldn't see the bottom of the cup but the taste was as diluted as the one in Chicago.
I hope it was an error of their machine tonight....
By 7.30, the dining area was getting crowdy and lively.
The meal price was quite reasonable and after night shopping it would be a cosy little pub for a quick meal. But the floor manager or owner must be occasionally in the dining area to supervise the staff. Although I love their original cider on tap, I am not interested in waving my hand for the staff's attention like hopelessly drowning girl.
スポンサーサイト
トラックバック:
コメント: